A GEM OF ANCESTRAL WINEMAKING 
The most fascinating research project we are currently undertaking is the recovery of ancestral varieties. Launched by Miguel A. Torres in the early 1980s, the aim is to discover grape varieties that survived the phylloxera plague that devastated European vineyards in the late 19th century. Today, the fifth generation of the Torres family are firm proponents of this project, with the ambition of making unique, exciting wines based on forgotten varieties. They are little winemaking gems that also stand out for their resistance to drought and high temperatures, making them particularly interesting in light of the new climate scenario. Of the more than 50 varieties recovered so far, six have caught our attention. One of these is Forcada, a very aromatic white variety with marked acidity, which we use to make this single variety wine in very limited production.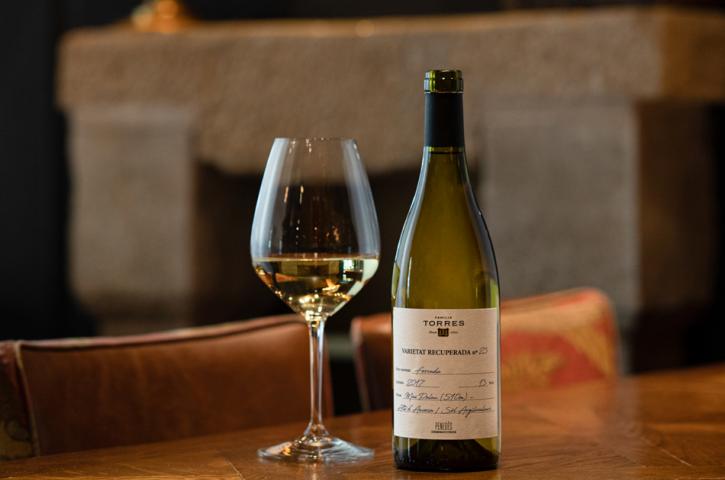 Origin
Forcada has been approved by the board that regulates the Penedès appellation and is planted in two of our vineyards in Alt Penedès, in the Alts d'Ancosa subzone: Mas Palau, in the Santa Maria de Miralles municipality at 550 metres above sea level, and Les Escostes, in La Llacuna, an old vineyard with terraces and dry stone walls that we recovered in 2020 and stands at 700 metres at its highest point, which will be used to find the ripening limits for this variety. 
DO Penedès
With 2,700 years of winemaking history to its name, making it the oldest winemaking region in Catalonia, DO Penedès is a broad, open appellation that stretches across a swathe of land between the sea and mountains, midway between Barcelona and Tarragona. The influence of the sun and the Mediterranean Sea makes Penedès an exceptional region for winegrowing. Its unique nature is responsible for the diversity of DO Penedès wines, with the differences in climate, landscape, and soil resulting in a thousand flavours and aromas.