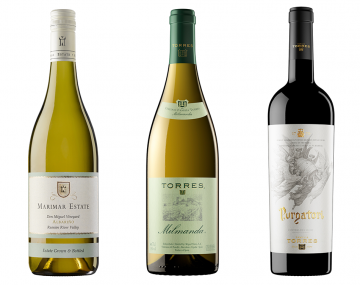 Three exclusive wines to add to your collection, made from the most select vineyards and aged in the most exceptional corners of our wine cellars. A wonderful opportunity to delight in the most characteristic Familia Torres flagship wines.
Subscription operation
Subscription details
Below you can see the wines that are included in the current collection and sign up to have them delivered to your door.
As soon as you have completed your registration, you can immediately enjoy all of the benefits of being a club member. In addition, you can access the Member Area where you'll find all of the wine fact sheets, recommendations from our sommeliers, and a calendar featuring exclusive members-only events.
From June on, you will receive the wine selection and receive new wine cases during the months of March, June, September, and December.
Join now and receive the Spring Collection 2022.
Marimar Estate Albariño
Russian River Valley. California
Albariño has been known to produce outstanding wines in the cool, rainy climate of Galicia, in Northwest Spain. We first planted it in our Sonoma Coast vineyard, but that proved too cold for ripening even a cool-climate variety like this. After four years, we gave up and grafted the budwood from those vines onto our slightly warmer Russian River Valley estate.
Milmanda
1.000 years of history. Milmanda was part of a route of medieval castles that sheltered Christians during the period of the Reconquista. The 12th century brought peace to the region and with it the return of winegrowing. In the vineyards around the castle, the Torres family now grows Chardonnay to produce this exclusive wine.
Purgatori Magnum
In 1770 the monks of the Abbey of Montserrat settled in the els Desterrats property as penance. The area was renowned for its harsh climate and tough conditions. Their work: To cultivate the land to provide food for the diocese. Their legacy: The discovery of a new terroir and a fine wine. The legend: Large barrels mysteriously disappeared.
Some said that they were taken up to heaven by the angels.