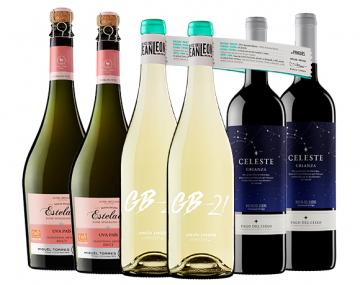 The Silver subscription includes a quarterly shipment of six authentic wines for lovers of the wine world. Carefully crafted at our wineries around the world, these wines evoke their magnificent landscapes of origin in the glass.
In addition, you will enjoy all the benefits of being part of the Club: discounts, exclusive events, free shipping, sommelier on demand and many more advantages. 
Subscription operation
Subscription details
Below you can see the wines that are included in the current collection and sign up to have them delivered to your door.
As soon as you have completed your registration, you can immediately enjoy all of the benefits of being a club member. In addition, you can access the Member Area where you'll find all of the wine fact sheets, recommendations from our sommeliers, and a calendar featuring exclusive members-only events.
From March on, you will receive the wine selection and receive new wine cases during the months of March, June, September, and December.
Join now and receive the Spring Collection 2022.
Estelado Rosé
Miguel Torres, 5th generation, began making wines some years ago using the País variety. This variety, existing in almost total oblivion in Chile up until very recently, was the first variety cultivated in the country, and the origin of its winemaking history. Miguel Torres initiated a project aimed at restoring the variety's value in the eyes of the world with the help of small winegrowers in the region and by obtaining the "Fair Trade" certificate.
Jean Leon GB-21
A tribute to the most intuitive, experimental, and determined version of Jean Leon. A single variety Garnacha Blanca wine made artisanally, revealing the potential of this indigenous variety that is so deeply rooted in our region. An exclusive wine with only 3.034 bottles produced.
Celeste Crianza
Celeste is born 895 meters above sea level, where the vines and the sky form a magical connection, resulting in a wine filled with the freshness, emotion, and intensity of a starry night.