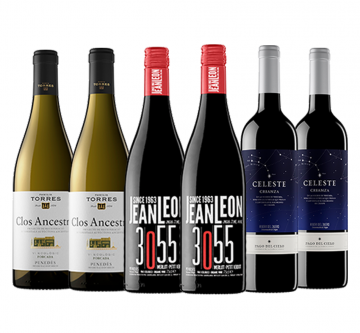 The Silver subscription includes a quarterly shipment of six authentic wines for lovers of the wine world. Carefully crafted at our wineries around the world, these wines evoke their magnificent landscapes of origin in the glass.
In addition, you will enjoy all the benefits of being part of the Club: discounts, exclusive events, free shipping, sommelier on demand and many more advantages. 
Subscription operation
Subscription details
Below you can see the wines that are included in the current collection and sign up to have them delivered to your door.
As soon as you have completed your registration, you can immediately enjoy all of the benefits of being a club member. In addition, you can access the Member Area where you'll find all of the wine fact sheets, recommendations from our sommeliers, and a calendar featuring exclusive members-only events.
From March on, you will receive the wine selection and receive new wine cases during the months of March, June, September, and December.
Join now and receive the Spring Collection 2023
Clos Ancestral White
PRESERVING OUR HERITAGE, PROTECTING THE EARTH 
For more than 2,000 years, winegrowing has existed around Castell de la Bleda, in the heart of Penedès. Remains from the Iberian, Roman, and medieval periods, as well as from just before the phylloxera plague, have all been found at this site. Since the early 1980s, we have been working to recover ancestral varieties to play a part in recovering Catalonia's vineyard heritage and look for solutions to deal with climate change. Over time, we have seen that besides showing great winemaking potential, some of these varieties are extremely resistant to high temperatures and drought. In the case of forcada, the first white prephyloxeric variety recovered and vinified, cupaje is completed with a small percentage of the native xarello variety, which contributes to the aromatic complexity of wine with grain notes and reinforces its territorial identity.
Jean Leon 3055 PV
When Jean Leon first arrived in New York, he worked as a taxi driver. 3055 was his license number and represents a look at the man behind the legend. The humble beginnings of an idealist who made his dreams come true, to open the most luxurious restaurant in Hollywood, "La Scala", and to produce his own wine.
Celeste Crianza
Celeste is born 895 meters above sea level, where the vines and the sky form a magical connection, resulting in a wine filled with the freshness, emotion, and intensity of a starry night.