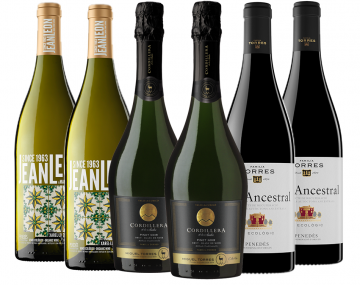 Six authentic wines for lovers of the wine world. Carefully crafted at our wineries around the world, these wines evoke their magnificent landscapes of origin in the glass.
Subscription operation
Subscription details
Below you can see the wines that are included in the current collection and sign up to have them delivered to your door.
As soon as you have completed your registration, you can immediately enjoy all of the benefits of being a club member. In addition, you can access the Member Area where you'll find all of the wine fact sheets, recommendations from our sommeliers, and a calendar featuring exclusive members-only events.
From March on, you will receive the wine selection and receive new wine cases during the months of March, June, September, and December.
Join now and receive the Spring Collection 2022.
Jean Leon Xarel·lo Nativa
Made from indigenous Catalan varieties, the Jean Leon Native range is an homage to Penedès, the land where Jean Leon decided to realize his dream of a namesake wine. A collection inspired by Catalonia's classic tiles, a cherished emblem of our history and popular customs.
A Wind Rose adorns this fresh, elegant, organic xarel·lo made 100 from Penedès's variety par excellence.
Cordillera Brut
Every morning in the Curicó Valley the Sun rises from behind the Andes mountain range, initiating an ancient ritual that brings together terroir and vines. These majestic vineyards at the foothills of the mountains revel in a cold climate ideal for growing Pinot Noir.
Clos Ancestral
Vineyards have existed around Castell de la Bleda for more than 2,000 years, a winegrowing enclave in the heart of Penedès, the region Familia Torres calls home. Iberian, Roman, and medieval vestiges have been found in the area, as well as from the time immediately before the phylloxera blight. Since the early 1980s, we have been committed to the recovery of ancestral varieties to help restore the viticultural heritage of Catalonia while seeking solutions to combat climate change. Over time we have observed how some of these varieties not only display great enological potential but are also extremely resistant to high temperatures and drought. This is true of Moneu, an ancestral variety indigenous to
Penedès, which we reintroduced with plantings in the vineyards of Castell de la Bleda. The fact that we can now add Moneu to the Clos Ancestral blend fills us with great joy.