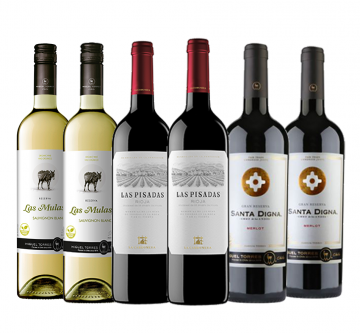 The Bronze subscription includes a quarterly shipment of six young wines for your everyday enjoyment. Made at our wineries, they invite you to explore the wonderful world of wine.
In addition, you will enjoy all the benefits of being part of the Club: discounts, exclusive events, free shipping, sommelier on demand and many more advantages. 
Subscription operation
Subscription details
Below you can see the wines that are included in the current collection and sign up to have them delivered to your door.
As soon as you have completed your registration, you can immediately enjoy all of the benefits of being a club member. In addition, you can access the Member Area where you'll find all of the wine fact sheets, recommendations from our sommeliers, and a calendar featuring exclusive members-only events.
From now on, you will receive the wine selection and receive new wine cases during the months of March, June, September, and December.
Join now and receive the Spring Collection 2023
Las Mulas Sauvignon blanc
Hens walk freely through the vineyards, but our most outstanding animal is Rufina, our faithful companion: the mule. She helps us to achieve a better balance with nature and accompanies us on hikes on the steep peaks of the Andes.
Las Pisadas
The name Las Pisadas evokes the vinicultural traditions of Rioja Alavesa. Our ancestors carved stone presses, known as lagares, into the rocky slopes of the sierra where they pressed grapes harvested from wild vineyards. They left an indelible mark on the landscape that is now home to our winery.
Santa Digna Merlot
The stone crosses standing on the borders of lands were called Santa Digna. These crosses were used to mark boundaries and symbolized good luck and protection for those setting off for remote lands.
The image of Santa Digna retains the purest aspects of our identity, bringing together the prosperity and simplicity of the Chilean project. It reflects the combination of its origin (a cross representing prosperity) with the Latin American Andean cross, in appreciation of the continent and the culture that welcomed us more than 30 years ago.