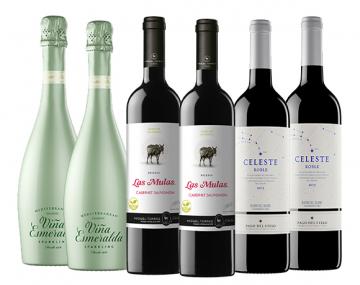 The Bronze subscription includes a quarterly shipment of six young wines for your everyday enjoyment. Made at our wineries, they invite you to explore the wonderful world of wine.
In addition, you will enjoy all the benefits of being part of the Club: discounts, exclusive events, free shipping, sommelier on demand and many more advantages. 
Subscription operation
Subscription details
Below you can see the wines that are included in the current collection and sign up to have them delivered to your door.
As soon as you have completed your registration, you can immediately enjoy all of the benefits of being a club member. In addition, you can access the Member Area where you'll find all of the wine fact sheets, recommendations from our sommeliers, and a calendar featuring exclusive members-only events.
From now on, you will receive the wine selection and receive new wine cases during the months of March, June, September, and December.
Join now and receive the Autumn Collection 2022.
Viña Esmeralda Sparkling
An elegant sparkling wine with exquisite bubbles, made from Mediterranean varieties. Good intensity, fresh fruit mingling with white floral notes characteristic of the Muscat variety. Fresh on the palate, with good acidity and fine bubbles that reveal floral and citrus notes. The varietal character comes through on the finish.
Las Mulas Cabernet Sauvignon
Chickens and geese roam freely through the vineyards, but our most prominent animal is Rufina, our faithful companion: the mule. She helps us achieve a better balance with nature and accompanies us on walks through the steep Andean peaks.
Celeste Roble
The winery is located in Fompedraza, in the highest zone of the DO where the vines and the starry heavens seem to share a magical connection. A place whose spectacular landscapes and ideal climate make extraordinarily intense aromatic red wines.