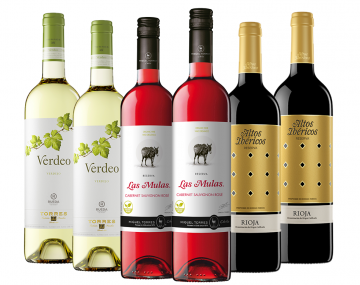 Six young wines for your everyday enjoyment. Made at our wineries, they invite you to explore the wonderful world of wine.
Subscription operation
Subscription details
Below you can see the wines that are included in the current collection and sign up to have them delivered to your door.
As soon as you have completed your registration, you can immediately enjoy all of the benefits of being a club member. In addition, you can access the Member Area where you'll find all of the wine fact sheets, recommendations from our sommeliers, and a calendar featuring exclusive members-only events.
From March on, you will receive the wine selection and receive new wine cases during the months of March, June, September, and December.
Join now and receive the Spring Collection 2022.
Verdeo
In the highest part of the northern Meseta, in the middle of the Duero, lies the Rueda DO. Its brown, stony soils and its continental climate, with long, cold winters and hot, dry summers, give rise to the Verdejo grape.
This autochthonous variety, exclusive to the region, gives us white wines with a unique, fresh and natural character, exquisite fruit expression and intense green hues. 
Las Mulas Rosé
Chickens and geese roam freely through the vineyards, but our most prominent animal is Rufina, our faithful companion: the mule. She helps us achieve a better balance with nature and accompanies us on walks through the steep Andean peaks.
Altos Ibéricos Reserva
In 2005, we established our winery near Labastida, in the heart of Rioja Alavesa, based on a deep recognition of the region's winegrowing potential, which makes it an ideal place to produce high-quality wines that display remarkable personality and mature beautifully. Altos Ibéricos is named after Alto Otero, the beautiful enclave that is home to the winery.