UNUSUAL VARIETIES ARE IN STYLE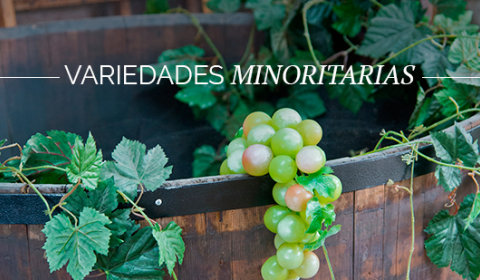 Non-mainstream varieties brought back from the brink of oblivion. Join Meritxell Falgueras on a tour of our winery's most unique blends.
Selma, Querol, Gonfaus... Ring a bell? If not, they soon will. They might not be world famous like Chardonnay or Merlot, but they make truly authentic wines with tons of personality. Standard-issue tasting notes like "deeply opaque dark cherry red, ripe red fruit on the nose, voluptuous tannins and a long finish" are a thing of the past.
We've grown accustomed to choosing wines dominated by well-known varieties. Nothing, however, is as exciting as trying new and different wines! These indigenous grapes are unique and represent our cultural heritage. Let's try them together!
Garróis a traditional Catalan red variety, which has been successfully revived. It has distinctive notes of woodsmoke (you'll find it in the Grans Muralles blend).
Graciano: This low-yielding, tannin-rich variety evolves magnificently during barrel and bottle aging. This is why it is often used, albeit in small quantities, in the finest La Rioja wines. Curious about its true varietal character? Try Altos Ibéricos Parcelas de Graciano, a DOC Rioja with irresistible intensity. Jammy blackberries with exquisite balsamic and vegetative notes.
Parellada: Included in the blend of the legendary Viña Sol, this is one of the finest, but also most challenging varieties. The resulting wines are low in alcohol and display delicate aromas and a pleasant body. Traditionally used to blend sparkling wines, it is quite difficult to find as a still white. Its subtlety will surprise you.
Querol is one of the many indigenous Catalan varieties that gradually disappeared during the 19th century. The variety produces very low yields and great concentration. It is also interesting in light of climate change, because it is a highly adaptable variety.
Cabernet Franc: Despite being perennially treated as Cabernet Sauvignon's "little sister," this grape is all grown up. In fact, its origins predate Cabernet Sauvignon. Cabernet Franc has a herbaceous tendency that has to be carefully managed. When it is, the wines are clean with a refreshingly fragrant nose that is unmistakable. Discover its unique characteristics in Reserva Real, a Bodeaux-style blend also featuring Merlot and Cabernet Sauvignon.
Bringing back ancestral varieties is a slow process that requires countless hours of experimentation. "This type of work is halfway between viticulture and archaeology, and it helps us to better understand the wealth of grape varieties that were grown before phylloxera devastated the vineyards," states Miguel Torres Maczassek.
After finding a new variety, the Torres team generally invests about 6 years into ensuring the vine's health, applying treatments if necessary, and prepping it for cultivation. This is how we got to know Selma, the first revived white variety of the Penedès, or Moneu and Gonfaus, which are highly resistant to high temperatures and drought.
Working with these varieties, which long seemed destined for oblivion, makes it possible to craft wines that represent tradition, albeit with a unique twist, as well as our enological and ecological heritage.
Meritxell Falgueras