The future of indigenous varieties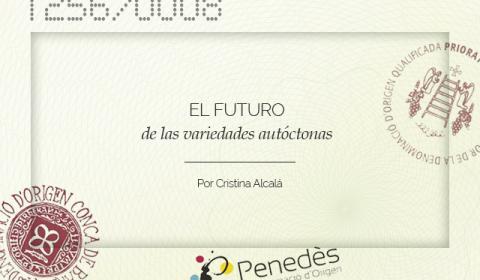 Winegrowing and human civilization go hand in hand. So do viticultural techniques and varietal selection. In domesticating the grapevine for food and winemaking, humankind has always sought fruit of increasingly better quality. This is still true today.
For Spain, the country with the largest area under vine in the world, the diversity of indigenous varieties is a subject of utmost importance. 90% of the grapes grown on Spain's one-million-plus hectares are used for wine production. Given the emphasis of European viticulture on concepts like soil, climate and territory, Spain's indigenous varieties are vitally important, as is their protection and study. It is a distinguishing quality factor not granted to all wine-producing countries.
Standing out in a competitive globalized world is increasingly complex. By that logic, wouldn't a region's local varieties be among the territory's finest ambassadors? Here "territory" is used in the broadest sense of the word to mean culture, landscape, society and heritage.
Varietal heritage should represent a priority and yet everything points to the contrary. It becomes a complex issue once we take several complicating factors into account. This includes the legislation governing many appellations of origin, the distinction between authorized and preferred varieties, the loss of area under vine, the uprooting of old vines, the difficulty of identifying varieties due to countless synonyms and homonyms, the high cost of research, exclusively commercial criteria, the rise of international varieties, etc.
Minority varieties are undeniably marginalized. Their disappearance would also mean the loss of Spain's varietal heritage. The future of indigenous varieties is clear and not recognizing their worth would be a mistake with far-reaching consequences.
One figure speaks volumes: only 10 varieties take up 80% of the area under vine in Spain. This fact shows how, at the very least, the tired refrain of identity and territory is becoming diluted.
In Spain, one may only grow the varieties in the Commercial Varieties Registry, which in turn is divided into a Definitive List (86 varieties) and a Provisional List (129). Of the documented varieties grown in Spanish appellations, 116 are indigenous, 19 foreign, and 74 in danger of extinction. A combined total of 235 varieties, including table and wine grapes.
Regardless of whether an initiative is public or private, the study, research and commitment to minority varieties or those facing extinction involves slow field work that offers long-term rather than immediate results.
Recent studies carried out by the National Institute for Agrarian and Food Research and Technology and the El Encín Vine Collection (Alcalá de Henares, Madrid) headed by Félix Cabello catalogued over 200 new varieties. The efforts by the Estaciones Enológicas, Spain's public winemaking research centers, to rebuild the country's heritage by identifying local varieties are essential to the revival and future of Spanish viticulture and wine production.
The protection of Spanish varietal heritage, however, does not solely depend on public initiatives. Research backed by private companies also contributes a great deal and will continue to do so in the future. One such example is the collection of ancestral varieties of the Torres family, which has been investigating and reviving varieties in Catalonia and elsewhere for decades. In fact, they have already included some of them, such as Garró or Querol, in their wines. This is a clear and laudable commitment to local identity and global differentiation.
After all, the clearest reflection of unique local identity can be found in the indigenous, the deeply rooted, the original. The vine has accompanied human civilization for thousands of years—failing to preserve its genetic and varietal heritage would indicate a deep lack of vision. Nothing is more universal than local character and authenticity.

Cristina Alcalà