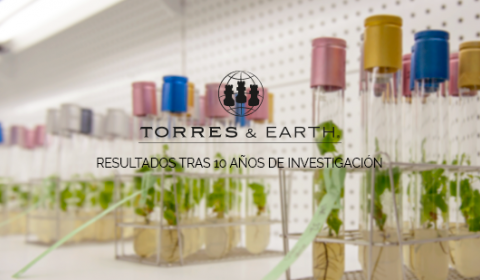 Climate change is the biggest threat the wine industry faces today: experts predict that temperatures could rise between 2 and 5 degrees by 2100.
If global warming doesn't exceed 2 degrees, winegrowing could adapt using techniques that delay grape maturation. However, if the increase in temperature is greater, the consequences for winegrowing as we know it today could be significant.
TORRES & EARTH: A DECADE AT THE FOREFRONT OF ENVIRONMENTAL AWARENESS
In light of the gradual and undeniable rise in temperature, Bodegas Torres decided in 2007 to take an even more active and decisive role in protecting the planet and the environment. The fight against climate change became a defining aspect of this mission.
This led to the introduction of the Torres & Earth program with the ambitious goal of reducing CO2 emissions by 30% per bottle between 2008 and 2020.
The efforts of the program have yielded tangible results, primarily in terms of measures to adapt the vineyard to rising temperatures, the conservation of biodiversity, energy efficiency and responsible water use, to name a few.
Today, after a decade of research, the irrefutable evidence of climate change's impact on the vineyard meets the excellent results of the projects that Bodegas Torres has implemented thus far.
CARBON FOOTPRINT REDUCTION
The carbon footprint refers to the total greenhouse gas emissions associated with the various stages of a product's lifecycle. The accumulation of these gases in the atmosphere is a consequence of industrialization and one of the main causes of climate change.
By 2016, Bodegas Torres had managed to cut its own CO2 emissions by 40% compared to 2008, the year the company announced its commitment. This represents 15.6% of per-bottle emissions.
Our suppliers are responsible for 90% of our carbon footprint. This is why we cannot reduce this percentage on our own. It is therefore absolutely essential that we work with our suppliers; their participation is key to meeting our goal of a 30%-reduction in CO2 emissions by 2020.
Bodegas Torres has been collaborating with its suppliers of ancillary materials, raw materials and logistics since 2015 to design specific carbon footprint reduction plans that focus on energy efficiency, renewable energy, biofuels, and the development of lighter packaging with a lower environmental impact.
This year the company held its first-ever awards to recognize suppliers who have made the greatest contribution to combating climate change. Bodegas Torres presented awards to the bottle manufacturer Vidrala, the logistics company JF Hillebrand, and the Canela family of winegrowers at a ceremony in Barcelona.
REVIVING ANCESTRAL VARIETIES AND OTHER VINEYARD ADAPTATION MEASURES
The project to bring back ancestral varieties (now part of the research aimed at adaptation measures) predates the Torres & Earth program and now seems like a decision that was ahead of its time. The project plays a major role in rediscovering the rich winemaking heritage of our homeland.
It's all aboutseeking the singularity of indigenous varieties rescued from oblivion, and emphasizingthe identity and provenance of each wine in a globalized world. But even more importantly: many of these revived varieties display excellent enological potential, as well as a natural resistance to rising temperatures, drought or certain diseases that affect the vine.
The project's success is embodied by varieties like Garró, Pirene, Forcada, Gonfaus, Moneu and Querol.
OTHER VINEYARD ADAPTATION MEASURES
In order to combat rising temperatures, Bodegas Torres is adapting its vineyards to delay grape maturation using viticultural methods like planting density, using more drought-resistant rootstocks, and cultivation and canopy management techniques.
In addition, the winery is seeking new cultivation areas at higher altitudes where the climate is cooler and allows for gradual and balanced grape ripening, well-concentrated varietal aromas and the right level of acidity.
SELECTED ENVIRONMENTAL ACTIONS
In order to meet its carbon footprint reduction goal, Bodegas Torres began a series of environmental actions in 2008 of which the following are particularly important:
In 2012, the winery in Pacs del Penedès installed the largest biomass boiler of any Spanish winery. The boiler runs on pruning canes, old vines, pomace and stems. This has reduced the winery's natural gas consumption by 95% and prevents the emission of 1300 tons of CO2 every year.
The winery has a fixed photovoltaic array that is 18,000 m2 in size and equivalent to 1073 Kw. By now renewable energy covers 25% of the electricity the winery in Pacs del Penedès needs.
Eco-efficient transport is one of the factors reflected in our program to reduce Torres's carbon footprint. In 2007 we decided to gradually replace the vehicles driven by our managers and sales team with hybrid cars, aiming for a completely eco-friendly fleet by 2020. At this time our fleet features about a hundred hybrid or electric vehicles.
The introduction of a solar-electric train at our Wine Center in Pacs del Penedès is also worth mentioning. The first of its kind to be used for wine tourism purposes in Europe, the train provides the 100,000-plus people who visit our winery every year with a more sustainable way of enjoying their Torres experience.
Reduction in bottle weight
The average weight of our bottles has been cut by 13%, which has helped lower CO2 emissions in the production and transport of the bottles. The wine bottles weigh between 400 and 420 grams, meaning their weight has been reduced by 120 to 130 grams.
Water management optimization
Bodegas Torres has two rainwater harvesting ponds that can hold up to 38 million liters, plus a biological wastewater treatment plant and a water purification plant, which recycles water for gardening and cleaning purposes. Nowadays we reuse 40% of our water.
Caring for and protecting the forests and the biodiversity of the surrounding environment are also key elements of Bodegas Torres's T&E program, because we know that today—just like yesterday—the more we care for the earth, the better our wine.